Tech Tuesday: Last Minute Vacation Apps
You've got a winter break and you're trying to igure out what you can do. How about a last minute trip? There's an app for that. Actually, TechHive has 10 terrific apps for last-minute travel deals. Here are a few of our favorites.
FlightBoard, a stylish app modeled after the board maintained at Charles de Gaulle Airport near Paris, turns your device display into an arrivals and departures board for airplane flights. It includes information drawn from more than 3000 airports and shows updated information every 5 minutes, letting you view the real-time status of any flight. The app is particularly handy for last-minute travelers who are rushing to catch a plane and for people who are looking for the next available flights out of nearby airports.
Unlike Next Flight (see below), which helps you get to a same-day destination, Hotel Tonight's goal is to find a place where you can rest your head once you've arrived. The aptly named Hotel Tonight scouts for great prices at nearby hotels available on the night of your search (up until 2 a.m). You can book a room for one or more nights directly from the app. It tracks accommodations in more than 80 cities across a dozen countries, but it limits its listings to hotels that the creators have personally vetted—which means higher-quality selections, lower prices, and less slogging through an overwhelming number of choices.
Next Flight (Android, iOS, Windows Phone; $3)
Next Flight is a useful app for just about any frequent flier, but its up-to-the-minute flight information is ideal if you find yourself needing to hop on a plane right away. You plug in your origin, destination, and departure date; and the app responds by generating a list of all available flights to that locale, along with their departure and arrival times. The app also supplies terminal and gate information—data that can be crucial to have on hand if you're in a rush. Regrettably, the app itself doesn't include booking functionality, but that's mainly because it's so oriented to last-possible-minute travel that a call to the airline is required.
Travelzoo is useful for finding everything from full-blown, all-inclusive vacations to deeply discounted tickets to local events. For travelers who find themselves looking for a local's experience in a new city, there's a handy mapping feature that shows deals near you for activities ranging from baseball games to ballet. The app delivers these Local Deals vouchers directly to your phone, so you won't have to go hunting for a printer during your travels. The Travelzoo Top 20, a list of the best deals of the week, arrives as an information update inside the app each Wednesday—it's particularly well suited for last-minute bargains, since the offers tend to sell out quickly.
TripIt (Android, BlackBerry, iOS, Windows Phone; free)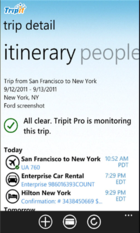 Making sure that all of your trip details are coherently organized will help ensure that your last-minute travel unfolds smoothly and with as little stress as possible. The TripIt app lets you access all of your travel details in one place. You simply forward your airline and hotel reservations to a TripIt email address, and TripIt then saves the data to organized itineraries that you can access on your phone. You can also add plans directly to the app; sync itineraries with your calendar; share itineraries with friends and family; and receive weather information, travel directions, and maps for your travel destinations. A pro version (priced at $49 per year) provides additional features such as flight alerts and rewards tracking.
Twitter (Android, BlackBerry, iOS, Windows Phone; free)
Travel may not immediately come to mind when you think about Twitter, but you can find plenty of useful tips and deals on the microblogging service if you know who to follow. For JetBlue faithful, @JetBlueCheeps tweets last-minute airfares every Tuesday. Airfare Watchdog (@airfarewatchdog) covers all airlines and tweets daily with deals based on specified location and destination. If only luxury will do, check out @GetATravelDeal. It's also prudent to follow location-specific accounts—for example, @gohawaii and @HawaiianFares—if you have a particular destination in mind. Don't want to put in the legwork? Try TripTwit, which finds the best Twitter travel deals and reports them in a daily email message.