Things to do in Davis, CA July 25-31st, 2014
There's lots to do around Davis, CA this weekend (and beyond).   The Yolo Basin Bat Walk is sold out, but you can get tickets for future bat walks in late August, by clicking here. These tickets sell out weeks in advance. If you haven't seen a quarter million bats flying above your head, you're missing something on your bucket list.
Our best bet for this week is, once again, The Davis Shakespeare Festival's production of Much Ado About Nothing. Synopsis: Much Ado About Nothing features the face-off between Shakespeare's most fiery couple: Benedick and Beatrice. Inspired by California wine country in the 1940s, this Much Ado features wine, romance, and swing (with a live band)!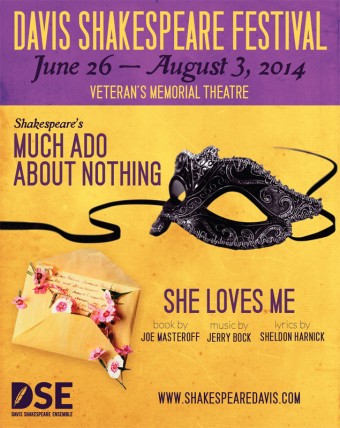 Movies: Three movies open today, (click on the links for the RottenTomatoes.com reviews):  Wish I was Here, Lucy and Hercules.
(Click here for the latest show times or scroll down to see our weekend movie show time guide below.)
Friday, July 25, 2014
Live Music with Bob Wren
Monticello Seasonal Cuisine, Davis CA
Traditional and world music on violin, octave mandolin, banjo and mbira.5:30 pm – 8:30 pm
Free
Lecture: Debbie Davis
Davis Roots, Davis CA
"Where are they now?" speaker series features Davis and Sacramento based companies whose founders speak about their experiences with building companies in the area, the challenges they've faced and what they've learned from their experiences. Debbie Davis is editor and assistant publisher of The Davis Enterprise. A 35-year veteran of the paper, she has been at the helm of the newsroom for 32 years. During her tenure, The Enterprise won three straight general excellence awards from the California Newspaper Publishers Association as the best small daily newspaper in the state.6:00 pm
Free
Bat Talk & Walk
Yolo Bypass Wildlife Area, Davis CA
An estimated 250,000 Mexican free-tailed bats live under the Yolo Causeway during the summer – one of the largest urban bat colonies in CA. The family friendly program begins with a presentation about bats. Then the group caravans through the Yolo Bypass Wildlife area to the best viewing location. Register @ www.yolobasin.org. $10 adult/kids free.6:30 pm
$10
Peter Pan
Davis Musical Theatre Company (DMTC), Davis CA


Presented by Young Performers Theater. Join Peter Pan, Wendy, Michael, and John in the high-flying timeless Broadway musical that will whisk you away to a place where dreams are born and no one ever grows up! 

Fridays & Saturdays @ 7:15p, Sundays @ 2:15p.
7:15 pm
$8
A Thousand Lives: The Untold Story of Jonestown
The Avid Reader, Davis CA
Join Jonestown survivor Thom Bogue and author Julia Scheeres for a reading and Q&A about Jonestown.7:30 pm – 8:30 pm
Free
Rod Picott
Palms Playhouse, Winters CA
8:00 pm
$20
Jesse Rimler + Poppet + Chat Rooms
Third Space, Davis CA
Jesse Rimlerhttp://www.jesserimler.com/Oakland-based pianist, Tin Pan Alley-influenced singer/songwriter.

Poppet

http://poppet.us

One-woman show-stealing pop opera! From Davis. 

Chat Rooms
Sacto + Davis electro pop experience. A Michael RJ Saalman jam.

Dry venue. All ages.

8:30 pm – 11:00 pm
$5
Saturday, July 26, 2014
Farmers Market
Central Park, Davis CA
Support your local farmers. Seasonal produce, baked goods, hot food-to-go & more.8:00 am – 1:00 pm
Free
U-Pick Fruit Event
Collins & Cloverleaf Farm, Davis CA
Saturday U-picks at an organic farm right in Davis. Pick buckets of apricots, blackberries, and peaches at discount prices!9:00 am – 2:00 pm
Free
Origami
Davis Public Library, Davis CA
Come fold with the Davis Origami Group. Adults, teens and children above five welcome.1:00 pm – 4:00 pm
Free
Breyer Fun Day
The Avid Reader, Davis CA
At this event young people paint their very own Breyer model horses! The event is free, but supplies are limited, so show up early and be ready to paint!2:00 pm
Free
Davis Shakespeare Festival
Veterans Memorial Theatre (VMT), Davis CA
Davis Shakespeare Ensemble presents She Loves Me, with music and lyrics by the same team as Fiddler on the Roof, which follows an unlikely pair falling in love. See www.shakespearedavis.org for calendar & other shows. Thursday-Saturday @ 8p; matinees on Saturday & Sunday @ 2p. Fest pass $35 adults/$30 st & sen/$25 kids. Single show tix $20 adults/$18 st & sen/$15 kids.2:00 pm
$15-$35
Peter Pan
Davis Musical Theatre Company (DMTC), Davis CA


Presented by Young Performers Theater. Join Peter Pan, Wendy, Michael, and John in the high-flying timeless Broadway musical that will whisk you away to a place where dreams are born and no one ever grows up! 

Fridays & Saturdays @ 7:15p, Sundays @ 2:15p.
2:15 pm
$8
Cocktails in the Courtyard
Carlton Plaza of Davis, Davis CA
Enjoy a relaxed afternoon of chatting with new friends on the beautiful Carlton Plaza of Davis courtyard. Sip a cool cocktail and savor delicious hors d'oeuvres from chef Andrew Moret.4:00 pm
Free
Ken Kemmerling on Piano
Monticello Seasonal Cuisine, Davis CA
Jazz standards every Saturday.6:00 pm – 9:00 pm
Free
Peter Pan
Davis Musical Theatre Company (DMTC), Davis CA


Presented by Young Performers Theater. Join Peter Pan, Wendy, Michael, and John in the high-flying timeless Broadway musical that will whisk you away to a place where dreams are born and no one ever grows up! 

Fridays & Saturdays @ 7:15p, Sundays @ 2:15p.
7:15 pm
$8
3 Leg Torso
Village Homes Community Center, Davis CA
The ensemble consists of 5 musicians and it's musical mission is performing original compositions based on an eclectic synthesis of chamber music, tango, klezmer, latin, and Roma (Gypsy) music. More details at 3legtorso.com. $15 adv/$18 door.8:00 pm – 10:00 pm
$18/$15
Davis Shakespeare Festival
Veterans Memorial Theatre (VMT), Davis CA
Davis Shakespeare Ensemble presents Much Ado About Nothing. See www.shakespearedavis.org for calendar & other shows. Thursday-Saturday @ 8p; matinees on Saturday & Sunday @ 2p. Fest pass $35 adults/$30 st & sen/$25 kids. Single show tix $20 adults/$18 st & sen/$15 kids.8:00 pm
$15-$35
Pinky
Barnyard Theatre, Davis CA
A charmingly odd comedy about love, friendship, and other role-playing games. This staged reading will be performed in the historic Shmeiser Barn. To learn more, visit www.barnyardtheatre.org.8:00 pm – 10:00 pm
$10 donation
Waterstrider
Sophia's Thai Kitchen, Davis CA
A rumbling and thundering five-piece, led by Nate Salman. With special guest Split Screens. The best live music you're gonna hear tonight. 21+.http://www.splitscreensmusic.com/

9:00 pm – 11:30 pm
$5
Sunday, July 27, 2014
Arachnid Day at the Bohart Museum of Entomology Open House
UC Davis Bohart Museum of Entomology, Davis CA
Come and challenge your beliefs about spiders and scorpions and other arachnids! We have live as well as museums specimens for you to explore. As always, this is a family friendly event.1:00 pm – 4:00 pm
Free!
Food Not Bombs
Central Park, Davis CA
Enjoy a free vegetarian meal every Sunday with people who believe that food is a right.1:00 pm
Free
Davis Shakespeare Festival
Veterans Memorial Theatre (VMT), Davis CA
Davis Shakespeare Ensemble presents Much Ado About Nothing. See www.shakespearedavis.org for calendar & other shows. Thursday-Saturday @ 8p; matinees on Saturday & Sunday @ 2p. Fest pass $35 adults/$30 st & sen/$25 kids. Single show tix $20 adults/$18 st & sen/$15 kids.2:00 pm
$15-$35
Peter Pan
Davis Musical Theatre Company (DMTC), Davis CA


Presented by Young Performers Theater. Join Peter Pan, Wendy, Michael, and John in the high-flying timeless Broadway musical that will whisk you away to a place where dreams are born and no one ever grows up! 

Fridays & Saturdays @ 7:15p, Sundays @ 2:15p.
2:15 pm
$8
Live Irish Music
DeVere's Irish Pub, Davis CA
Escape to Ireland at your local Pub! Plus drink and food specials.4:00 pm – 7:00 pm
Free
Night Market
Third Space, Davis CA
The first ever NITE market in the City of Davis!!! An exclusive, carefully curated set of vendors showcasing the best of vintage and handmade items. Vintage pop tunes during our shopping hours (

6p-9p

) followed by an outrageous dance party with IDEATEAM (

9p-11p). 

Local Sacramento food truck FuzionEatz will have delicious offerings and cafe style seating.6:00 pm – 11:00 pm
Free
Monday, July 28, 2014
Performers Circle
Village Homes Community Center, Davis CA
The Rita Hosking Trio is featured at this month's Performers' Circle, a monthly acoustic open mic. Sign-ups 6:45p-7:15p. Performances 7:15p-8:15p. Featured act 8:30p-9p. Every 4th Monday of the month.6:45 pm – 9:00 pm
Free
Pub Quiz
DeVere's Irish Pub, Davis CA
The place to be on the Monday evening…your Quizmaster, Dr. Andy, hosts a weekly celebration of knowledge, strategy and entertainment. Teams of up to 6 players. Arrive by 6p to secure a table.7:00 pm
Free
Tuesday, July 29, 2014
$1 Kids' Movies
Regal Davis Stadium 5, Davis CA
Summer Movie Express is back!! See The Croods or Epic for only a buck.10:00 am
$1
New Parent Network
Davis Food Co-op, Davis CA
An informal gathering in the Co-op Teaching Kitchen (537 G Street) for new & expecting parents and their little ones! Refreshments provided.10:00 am – 11:30 am
Free
Wine Tasting
Monticello Seasonal Cuisine, Davis CA
Ricardo Rosales provides entertainment with the classical bassoon.5:00 pm – 7:00 pm
Free
Salsa Tuesday
The Graduate, Davis CA
With DJ Miguel. Dance lessons at 9:30p w/Cori from Barbara's Dancing Tonight. 18+.9:30 pm
$6
Wednesday, July 30, 2014
$1 Kids' Movies
Regal Davis Stadium 5, Davis CA
Summer Movie Express is back!! See The Croods or Epic for only a buck.10:00 am
$1
Farmers Mkt. & Picnic in the Park
Central Park, Davis CA
Bring a picnic blanket and some dancing shoes. Local produce, hot food to go, wine & beer garden, and live music. 7/2  Over Forté (Dixieland), 7/9  Acoustic S & M (50 Years of Folk/Rock), 7/16  The Hucklebucks (Blues), 7/23  Lincoln Highway Band (Country/Rockabilly), 7/30  Julie & the Jukes (Blues).4:30 pm – 8:30 pm
Free
Unofficial Davis Scrabble Club
Central Park, Davis CA
It's Scrabble time! Tired of always beating your little sister? Play Scrabble with (other) fun people. Players of all levels are welcome. Games start at Central Park and move to Crepeville after dusk. Bring your board if you can.5:30 pm – 11:00 pm
Free
Chatham County Line
Palms Playhouse, Winters CA
8:00 pm
$15
Open Mic Night
Sophia's Thai Kitchen, Davis CA
Hosted every Wednesday by Drew Walker on the lovely Sophia's deck . The mic is truly "open" to ALL genres, from music to spoken word to comedy, with a full PA & sound tech. Just bring your talent and a smidge of confidence. Sign-ups begin at 7p, performances start at 8p.8:00 pm – 11:00 pm
Free
Funk Night
Wunderbar, Davis CA
DJ Larry (Flower Vato) spins soul, funk, disco, hip hop, reggae, latin groove & bhangra. 21+10:00 pm
Free
Thursday, July 31, 2014
Bat Talk & Walk
Yolo Bypass Wildlife Area, Davis CA
An estimated 250,000 Mexican free-tailed bats live under the Yolo Causeway during the summer – one of the largest urban bat colonies in CA. The family friendly program begins with a presentation about bats. Then the group caravans through the Yolo Bypass Wildlife area to the best viewing location. Register @ www.yolobasin.org. $10 adult/kids free.6:30 pm
$10
Davis Shakespeare Festival
Veterans Memorial Theatre (VMT), Davis CA
Davis Shakespeare Ensemble presents She Loves Me, with music and lyrics by the same team as Fiddler on the Roof, which follows an unlikely pair falling in love. See www.shakespearedavis.org for calendar & other shows. Thursday-Saturday @ 8p; matinees on Saturday & Sunday @ 2p. Fest pass $35 adults/$30 st & sen/$25 kids. Single show tix $20 adults/$18 st & sen/$15 kids.8:00 pm
$15-$35
Trivia Night
Woodstock's Pizza, Davis CA
Teams of 3-6 players compete for great prizes & fun! Hosted by Mick & Thomas. 21+.9:00 pm
Free
Davis CA Weekend Movie Show Times:
616 Second Street, Davis, CA – (530) 758-5284
‎1hr 41min‎‎ – Rated R‎‎ – Comedy/Drama‎ – Trailer – IMDb
‎1:45‎  ‎4:00‎  ‎6:15‎  ‎8:30pm‎
‎1hr 54min‎‎ – Rated R‎‎ – Comedy‎ – Trailer – IMDb
‎2:00‎  ‎4:15‎  ‎6:30‎  ‎8:45pm‎
420 G Street, Davis, CA – (530) 297-4103
‎2hr 10min‎‎ – Rated PG-13‎‎ – Action/Adventure‎ – Trailer – IMDb
‎1hr 52min‎‎ – Rated R‎‎ – Action/Adventure/Comedy‎ – Trailer – IMDb
101 F Street, Davis, CA – (800) 326-3264 ext. 1704