CouponCabin Sidekick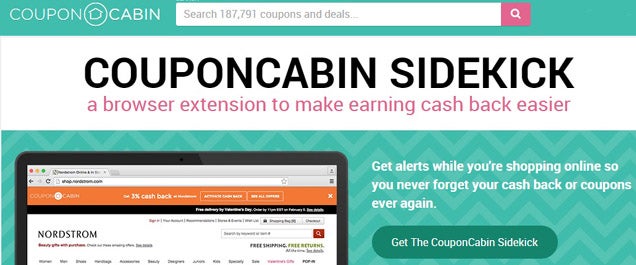 The Sidekick extension from the folks at CouponCabin (Free for IE, Chrome, Safari, andFirefox) will help you save money via coupons as well as get cash back at over 1800 retail web sites including Amazon, Kohl's, Best Buy, and Target. When you shop at a web site eligible for cash back, the extension will notify you of the percentage available directly above the store logo, along with any available coupons you can use. You'll need a CouponCabin account to get cash back, but everyone has access to the coupons.
Also, the extension does a great job displaying relevant cash-back offers and coupon information directly in your Google search results. This can be pretty handy when deciding which store to shop at. This extension is worth having because of the large number of stores and coupons available, plus they hand-test their coupons and guarantee them to work. It's also very unobtrusive with no pop-ups or annoying ads. The only feature that would make it better is if the coupons available were displayed within the extension and didn't require you to travel to the CouponCabin web site to see them.
Coupons at Checkout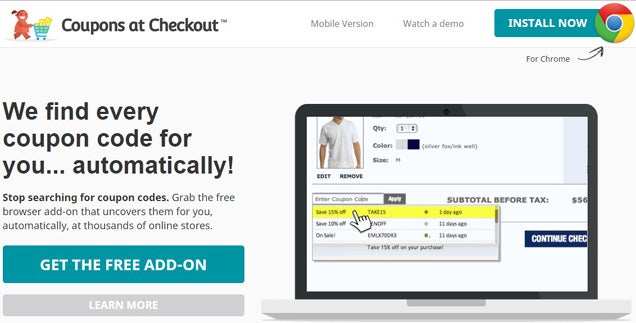 CouponFollow has a popular browser extension called Coupons at Checkout (Free for Chrome,Safari, and Firefox) that makes it easy to plug coupon codes into the appropriate box when checking out from over 100,000 online stores including JCPenney, Best Buy, Barnes & Noble, and Sports Authority. Once you install the extension, you're not required to register to get access to the coupons. When checking out from an online store, the coupon code box will automatically be highlighted in red. All you have to do is click on the red coupon box to get access to a drop-down menu of all the current codes, at which point you click the coupon you want to use and it gets added to the box.
While the extension doesn't have the cash-back piece tied to it like CouponCabin, it's a great add-on for any coupon user thanks to its ease of use and the sheer number of working coupons in their database. I tested the extension at twenty online retailers, both popular and obscure, and found working coupons available at each.
The Camelizer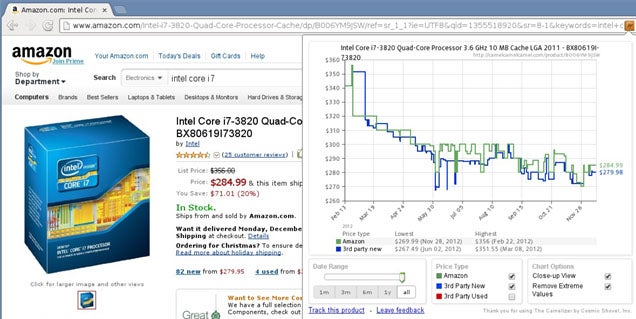 The Camelizer extension (Free for Firefox, Safari) is a must-have for any Amazon, NewEgg, or Best Buy shopper. The extension lets you track the price history of products as well as set price drop alerts so you can buy only when the price is right. Once you have alerts in place, you'll be notified via email once a price drop occurs. You don't have to register an account to track prices, but if you do, you'll get rid of the advertisements, which is worth the trouble. The extension was removed from the Chrome Web Store in late March with no explanation given. Hopefully it will return soon.