Even Shy People Can Be Champion Networkers
When you're younger and newer to the networking game it can feel a little daunting to walk into a conference room full of strangers and "work" the room. And if you're shy, fuggedaboutit. Here is some great advice from FoxBusiness.com for the wallflowers among us on how anyone can be a super networker.
Click on the link above for more tips.
Shy? 8 Opening Lines to Network Like a Pro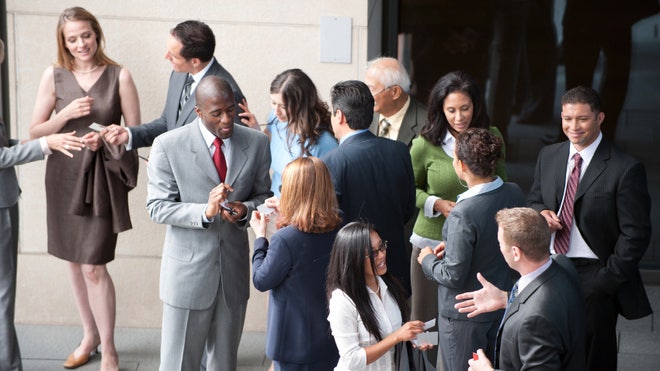 For many people, simply walking into a room full of strangers can be terrifying—let alone one packed with potentially valuable work contacts … and maybe even a future boss.
But since savvy networking can be one of the best moves you can make for your career, it's time to learn how to fearlessly bust through the doors of any work event—and own it.
That's why we challenged three networking veterans to divulge the clever opening lines that will enable you to strike up a conversation with just about anyone, whether you're mingling with hundreds of people at a convention center or a more intimate group at an after-work mixer.
Conversation Starter #1: "I just tried a slider from the buffet table, and I think I'm going to grab another. Care to join me?"
Hey, a networker's gotta eat, right? And if half of the room is as starving as you are after a long day at the office, the action is likely happening over by the food, says Barbara Safani of Career Solvers and the author of "Happy About My Job Search."
Conversation Starter #2: "I was just on LinkedIn and saw that we went to the same college." Or … "I saw on LinkedIn that you also worked with so-and-so!"
The most effective opening line is something that's personal to the person, says LinkedIn's career expert Nicole Williams, who's also the author of "Girl on Top: Your Guide to Turning Dating Rules into Career Success."
And while digging up info on other guests was hard before the advent of LinkedIn, Twitter and other social-networking sites, it's now easy to find an opener that connects you to a fellow networker. Just ask the event organizer for a list of attendees a few days beforehand, and then do a quick internet search.
Conversation Starter #3: "How long have you been a member of this organization?"
Sometimes less really is more, says Kathleen Brady, a career coach and the author of "Get a Job! 10 Steps to Career Success." This simple, open-ended question can work wonders to engage that shy someone who, by virtue of being at the same networking event, is there to meet people just like you. But try not to fire off too many questions at once—you don't want your conversation to suddenly feel like an interrogation.
Conversation Starter #4: "I read your book!" Or … "I was really impressed by the speech you gave at an event last year."
According to Williams, there's no greater compliment than to play up your knowledge of someone and their work. They're sure to be flattered and eager to hear your opinion of their writing or other accomplishment—and you can even use their talking points as a kicking-off point for an ice-breaker.